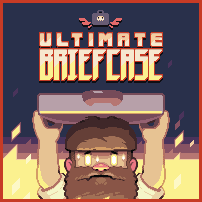 Nitrome is pleased to announce that our first ever published game Ultimate Briefcase is now live on the Google Play and the Apple App Store. So if you have a mobile device you can go and download it now!
Hundreds of automated doomsday machines have been unleashed on the city.
Survive waves of onslaught using your dodging skills and a variety of ridiculous special moves.

Where did the mysterious bomb-dropping, laser-spewing machines come from? What is the Ultimate Briefcase? And what is in it?

• Unlock a cast of unique characters, all with their own upgradable special abilities.
• Explore different areas of the city, from the fiery alley to the treacherous trapdoors of the water works bridge.
• Unlock new items to help you survive longer and rake in more coins.
• Collect security footage to piece together the story, and find answers to some of the questions above.
• No unlocks are purely cosmetic – everything you get has a real effect on the game.
Enjoy!