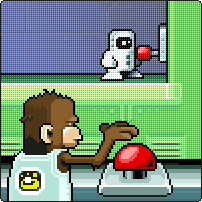 Hey nitromians,
Today's Pixelove game is called A Stroll in Space!
by Big Dino games.

http://www.pixellovegames.com/games/dthfdrh/

In it you play as a cute lil astro dude/dudette who is rudely awoken by a HUGE space squid... sounds like our type of game already!

You explore the space station avoiding its many hazards and space nasties until you unlock 'the monkey' (yes that's right, I said monkey!). After which you will have use of the awe defying red button which does some rather neat things to gravity.

This game has lots of lovely touches (especially the mid-ground and foreground animations). It fits in with the types of browser games we love to look at and play. So much so infact that you might even be mistaken at first glance that its one of our very own.

What do you guys think of A Stroll in Space?

Happy gaming.