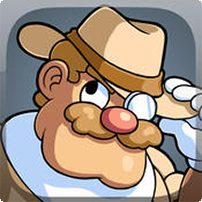 Hey Nitromians,
This weeks pixellove game is Duke Dashington by the extremely talented Jussi Simpanen over at Adventure islands.
Join our eentrapped explorer Duke in his quest through trap filled Temples. You have 10 seconds to escape each room and only your reflexes and dashing ability to save you from impending doom.

We'll... What are you waiting for get to work old bean, Tally-Ho!!!
p.s I've still been trying to wrap my head around how the Pixelove backend works for uploading, apologies again for the slight delay.

p.p.s If you like this game then show your support to the dev and download the full title on your mobile!