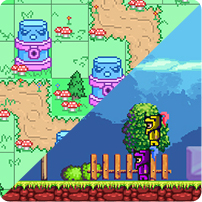 Tiny Treasure & Pixi Tower Defense are this weeks Pixel Love Games!
In this cleverly designed pixel game you control two heroes who must work in tandem to complete the levels; using such actions as leapfrogging and standing on top of one another.
The game is quick and is easily completable in 1 sitting. So head over and try to conquer this pixel platformer with a twist.
Nothing will stop the march of the monsters in this enjoyable tower defense game.
Strategically place down heavy artilery and help protect your pixel lands.
Have fun playing, there will be more Pixel Love games next week.