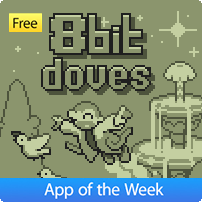 Hi Nitromians,
Apple have picked our game 8bit Doves as their Free App of the Week! So in case that wasn't obvious enough people with iOS devices that have not been so kind as to download it already can for the next week do so for gratis!
No catches, no Ads and no iAP just FREE!!!!
Go now our freeloading fans and grasp some Gameboy(ehem Nitromeboy) greatness while you still can!