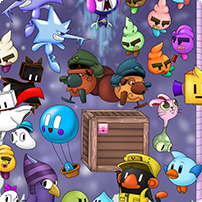 Hey Nitromians,
We have been so busy lately with the release of all our recent and upcoming web and mobile games that we haven't really had a chance to post any of the great fan-art we have been receiving.
Carolina Chicarelli has been creating LOTS of truly amazing nitrome art including all of her favourite characters and franchises. Check them out via the links below over on Deviant art.
All my fav nitrome games - We really do absolutely love this. From Smokey bacon ice-cream eating his favourite snack (in mid air non the less). To the test Subject standoff between arch enemies Green and Blue.
Chisel character set - Fun fact, Jon who designed the Chisel series liked this so much that he has temporarily used it as his twitter banner.
Please keep sending all of your fan-art pic's in. We love receiving them and will share the best ones with you on here.
The Nitrome Team =)