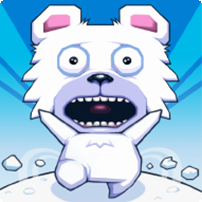 Hi nitromains,
We hope you have been enjoying our brand new winter game Rollar Poller on iOS and Android.
We have had lots of positive feedback so far. If you like it we would appreciate any positive reviews and ratings on the app and play stores.
Nitrome currently holds the No.1 spot in the leader boards on both iOS and Android, MWUHAHAHA!
Let's see if any of you have what it takes to beat us ;P
JK's score: 120 iOS
Tom score: 113 Android
We have lots of exiting news next week including news on our upcoming accounts update, Pixelove, Avatars every day as well as the release of Rolar Polar on nitrome.com.

p.s Dont forget new avatars will be released EVERY day in Dec across the site and in games for you all to find (including the weekends) And we plan to do a first week roundup on Sunday to see how everyone is doing so far.
Until Then, happy gaming have a great weekend. =)