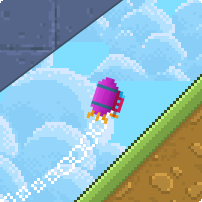 Today's Pixel Love game is Fly Again by Ozdy!
Clearly inspired by Rovio's game Retry, the objective of this game is to make your way to the finishing platform. Guide your aircraft by tapping (mouse click) and holding (holding your mouse down) to link together loops and dives.
This game gets really difficult and will pose a real challenge for anyone, but it is really addictive!
Have fun and we will bring you another Pixel Love Game next week!