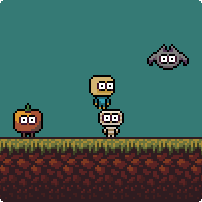 Today we have selected Grim, created by LetMeThink for Halloween as this week's Pixel Love game!
Grim was created within a week, and considering the time scale, is a well rounded polished short platformer. It is a wonderful little game that uses basic platforming mechanics to pose some very tricky timing-critical puzzle elements.
Have fun everyone, we'll bring you another Pixel Love game next week!