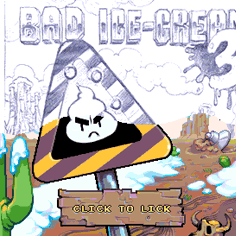 Hi Nitromians,
so if you didn't guess from our previous teases our big sequel for Christmas is going to be Bad Ice-Cream 3. This time out we have added some desert infused elements to the winter wonderland which has opened up some interesting ideas to the game...Alien Ice creams anyone?
Linking in with the earlier posts, in this shot we are showing a split between the initial sketch and the final title screen. If you would like to see the full title screen at 1.1 pixels click here.
That's it for now but you can enjoy more soon!
Why not get ready for the game by playing one of the original games.