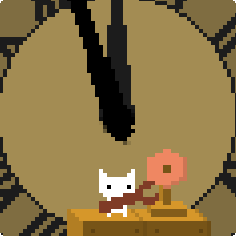 Today's Pixel Love game is Clockwork Cat, a game made by Patrick Traynor in 48 hours for Ludum Dare "10 Seconds" theme.
This game makes very clever use of the passage of time. We know that this one is short, but we really feel that it shows a lot of promise in its concept and deserves to be highlighted. This game both looks and plays great.
Play Clockwork Cat: Click Here!
Have fun, we will see you next week for more Pixel Love!