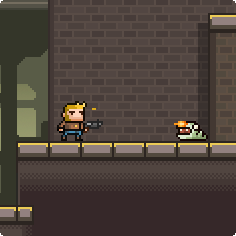 Ever wanted to play a really solid platform shooter as a Bandit?
...errrm we mean a trucker...
...Abraham Lincoln...
...A Psycho...
Okay okay, how about a cop then?
No? Well there is no pleasing you then. Thankfully those of you who do will enjoy this week's pixel love game. Random Heroes by the talented folks over at Woblyware. A solid run jump and shooter in which you must save the city from a horde of alien un-dead cyborg g zombies
It reminds us of the metal slug series, with plenty of gun and running, upgrades, secrets and bosses. With great music and nicely crafted pixel art...Need we really say more.
Also for those of you with iOS devices who like to play on the move you can grab it here for a measly sum of errrm ...'FREE'...
Random Heroes: Click Here!
Woblyware: Click Here!
Join us next week for more pixel love goodness.