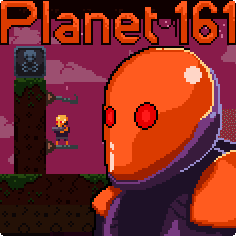 Hey Nitromians,
Welcome back to the first of 2013's Pixel Love games. Planet 161 is a puzzle platformer developed by Miniboss Studios
Use different guns to manipulate your environment and help the soldier Hinds escape from the evil clutches emperor Zordak and the tiny prison planet.
Created in a mind-blowing 48 hours for the Ludum Dare 23 Jam. It's a neat little game filled with intriguing puzzles, charming blocky pixel designs and a nice game-play twist. Perfect for a lunch-time break and a welcome addition to our catalogue of pixel gems.