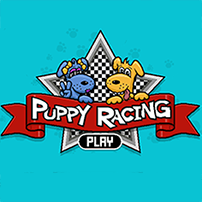 Todays Pixel Love pick is Puppy Racing and there is an interesting Nitrome related link to this game. The game is more than a bit old and back when it was made Nitrome was still relatively new so we often did some bits of work on the side of the games we did at Nitrome. One of those bits of work was for this game. Mat and Jon worked on the rotations for some of the racers in the game. To be clear we did not design the game...that was someone else...just a little sprite work. Still it's an interesting fact that we thougth you might like to know :)
The game itself is a Mario Kart clone that uses the Mode 7 type effect that so many games addopted at one point in flash before full 3d became possible at realistic speeds. It's no Mario Kart but it has a certain charm and we felt the link to Nitrome made it a great candidate for Pixel Love.
Join us next week for another Pixel Love and do feel free as always to send in your suggestions. Please note we can't always feature them much as we would like because games can be URL locked and we respect that decission if the creator does not want the game spread.