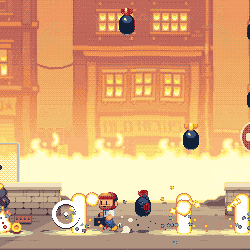 Hi Nitromians,
we have been making and publishing it's own titles on the App Stores now with increasing success and we have now decided to branch out and develop a publishing program!
The first title under Nitromes publishing wing will be 'Ultimate Briefcase'. It is being developed by a very talented developer named Stefan Åhlin and his new studio 'Quite Fresh'. Stefan actually worked at Nitrome in the past on many of our hit web games before leaving to pursue other things. We remained in contact since then and were thrilled to see us be able to team up again!
In 'Ultimate Briefcase' your tasked with surviving an onslaught of bombs with nothing to protect you but your trusty briefcase. There are many bomb types and power ups for you to discover in the game. You collect currency along the way which can be used to unlock new characters and level up the briefcase and those characters special items. During the game you will also be able to unlock new areas each with its own distinctive gameplay quirks. Ultimate Briefcase will be coming to iOS and Android devices soon!
The Nitrome publishing program is different from other Publishing programs in that we seek to focus around the developers themselves rather than individual titles. For us it's about finding the right people than cherry picking each game and working with those people to bring multiple titles to the App stores. Our hope is to enable developers to spend more time creating great content and less time on worrying who they might find to publish their next game.
We will work with developers from early in the process to ensure that their future titles will be something we are happy to publish and that they will be profitable enough for the developer that they can continue to make more great games. Nitrome published games will remain to be pixel art based, focused around a core query idea and funded by monetization models that fit our moral compass.
Any talented indies interested in a potential partnership feel free to contact us at publishing@nitrome.com.
For those that are currious as to what this means for our in house developed content....not much. We intend to keep producing the same ammount of content in house as we were before and in fact are expanding the team to be able to produce more content in the future.
For those of you wondering if the published games will appear on the website: Were considering this on a game by game basis. Primarally we are offering publishing based on mobile however we are open to the game appearing on the website aswell if the game is made in a technology that is compatable and if the developer wishes to pursue that. Currently there are no plans for Unltimate Briefcase to come to the website as the focus is on getting the game onto iOS and Android. It is possible however and if the developer shows an interest this may change.