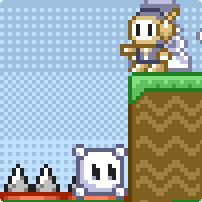 Melee Man is this weeks Pixel Love game!
This platformer was a wonderful little game created by The Village BlackSmith.
The game tasks you with bouncing off of cannon balls, enemies heads and more to make your way through some very clever and difficult puzzles / boss fights.
The Village Blacksmith brings a unique style of Pixel Art that we really enjoy and David vs Goliath beings another great soundtrack!
Apologies for bringing the post a day later than the game being highlighted on Pixel Love. Thanks for playing everyone, more Pixel Love next week!