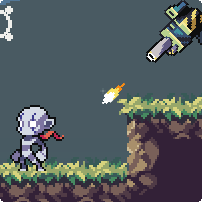 Play Fathom, an awesome platformer created by Joe Williamson.
Apologies first and foremost for not getting a Pixel Love game featured yesterday, I accidentally set up the date as Tuesday (being today). We had a bank holiday Monday it I got slightly confused!
This game is a real gem. The overall feel of this one is exceptionally crafted! Explore the environment whilst controlling bullets to evade getting hit!
The music is also something to admire. It fits seamlessly with the game's universe and aesthetic adding to the immersive fabric of Fathom.
Well, we hope that you all enjoy playing this one Nitromians! We'll bring you more Pixel Love next week, (preferably on the Monday!).