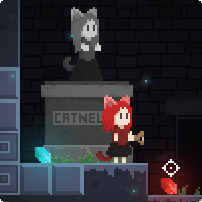 Todays Pixel Love game is Iridescent!
The game takes you on an adventure to find a mystical flower with multi-coloured petals. This flower is a cure that can help revive your friend!
The art style reminded us a little bit of our game Ditto. The music is very atmospheric, we really got immersed in this one.
The game play will find you solving puzzles using a unique crystal mechanic. There are different coloured crystals that have different effects when "blessed"
We hope you enjoy this one, we'll bring another pixel love title to your attention next week!