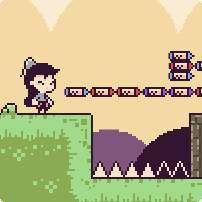 Play this very stylish platformer Crayon Poke (from the creator of Nitrome Jam Game "A Kitty Dream"). Use crayons to scale hard to reach places! This game was created in 72 hours LudumDare 32.
This version has been cleaned up and polished since then including bug fixes. We really like seeing the things Rayumi makes, as the art style is always executed very well.
Have fun Nitromians, more Pixel Love coming next week!