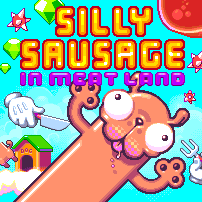 Silly Sausage in Meat Land is now available in the browser!
We will soon be offering a way for you to play this game in WebGL, which could mean you don't need the Unity Web Player. Google Chrome has now ended support for "Netscape Plugin Application Programming Interface" (or NPAPI). If you are experiencing issues playing the unity game, you could get a different browser that still supports this feature set.
We will also be putting up a technical post about WebGL in the coming days.
Click to Play Silly Sausage in Meat Land!
Until then, have fun everyone!