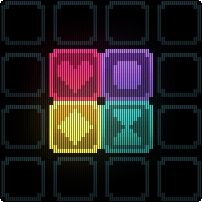 Today's Pixel Love choice is Glow Grid!
Glow Grid is a simple match-4 game which has been executed very well with great aesthetics and sound design. The simplicity in the designed elements helps frame, and doesn't draw away from, what your objective is.
It is a very addictive well made little game.
Available on iOS and Android! http://zutgames.com/glowgrid/
Have fun Nitromians! We'll bring you more Pixel Love next week!