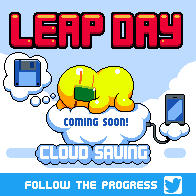 Hey Nitromians,

Leap Day now has cloud saving on iOS (android is proving a little more tricky, but we are making good progress)

What does 'Cloud Saving' actually mean you ask?

-It keeps all of your Leap Day data synced to play across all of your devices, neat! Meaning you can play on one device and carry on your progress on another.
-Never lose your characters and level progress ever again. Gone are the days of broken devices and lost save date, huzzar!
In other news we are currently fixing a bunch of things in Leap Day such as:
-Cloud saving on Android,
-The broken rolling escaping barrels
-The lonely tall wandering cactus level
-The crazy trapping springs
-Lag issues with the new huge lasers
-Zen Phone2 issues
-And finally trying to see if we can improve lag across various devices.

These bugs and improvements may get fixed in small batches depending if and when and if they are fixed.

We are aware of some other small issues like the frozen upside-down octopus, the eggs that sometimes bounce off your head and the occasional small escaping bugs and wall plant spitters.

We may fix these too given time. But for now we want to give ourselves time to create new stuff instead of just patching rare hard to fix bugs.

Happy gaming =)