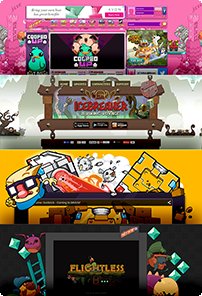 Hi Everyone,
We are in need of a well-rounded, hard-working, enthusiastic website developer to join the Nitrome team and take over the reigns of some high profile websites and web services including the nitrome.com website!
Description
We are looking for a highly motivated, creative individual with lots of skills that wants millions to see what he / she can do! We need someone to manage / maintain / develop our website and mobile integration.
Challenges within the role are varied from creating tools for our market leading games to controlling all areas within the Nitrome website. Tools and services? - Think high scores, achievement systems, multiplayer networking and cross promotion stuff! Website duties range from front end to back end, all the way to configuring the servers and hosting.
You'll be working along side game programers and artists, creating solutions for all our online "pie in the sky" ideas. You will have the opportunity to steer your own role and develop in areas of your own interest, so you can develop new awesome skills.
This all comes with a high level of responsibility so someone who can be focused and organised is essential. Experience is not as important as demonstrating your ability. Salary is negotiable. This is a job for someone with a huge passion for the industry that wants to be rewarded for going the extra mile.
Essential Requirements
PHP (deep understanding)
MYSQL (indexes, joins, prepared statements)
JavaScript (deep understanding)
HTML5
CSS3
Linux cli(centOS, debian)
PhotoShop
Positive can do attitude
Great communicator
Nice to haves
Load balancing / CDN experience
AWS management
LAN (in-house) SysAdmin
On-site / Off-site backups
rsync/crontab knowledge
AS3
Unity (C# monobehaviours)
WebGL
API/SDK integration
Memcached
Swift mailer/phplist
Please send your CV and salary expectations to jobs@nitrome.com if this is something that you are excited about!