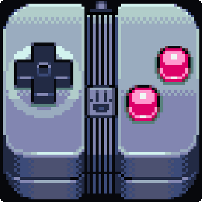 Hi Nitromians,
We have some sad news today. A few of you already noticed but we removed Touchy from the App Store and Google Play store a little while back. For those of you who have downloaded it already you can still use it for the moment. If you have already paid for the full unlock then it will still function but those with the App that have not already done so will not be able to use the IAP to unlock the full version.
So what's going on?
A few weeks back Nitrome and Brass Monkey had a meeting about Touchy. Brass Monkey (or InfaRed5 as their new company is now known) are the developers of the tech that makes Touchy work. They also run the servers that makes the initial connection happen between your computer and your phone.
They wanted to talk about the future of Touchy. Since setting up their new company they were closing down the old servers that ran Touchy as they said it was not cost effective to keep it running just for our app.
Swapping over to new servers meant a substantial update to both versions of the App and there were costs involved to do this. It also meant running our own servers for the service in future. We have been discussing these costs over the last couple of weeks. We removed the app from download and the iAP during this time as we did not feel comfortable letting downloads or sales continue while its future was uncertain.
The costs it turned out were quite a lot more than we had hoped. They would take us over two years of sales at the current rate to recoup the costs....or just maybe due to sliding sales we would never recoup the costs.
Touchy is a service based app. As people use it an external server has to pair the computer and phone and this costs money to run. If you turn off the server the app would cease to function.
Touchy never made a lot of money for Nitrome but we were happy to keep it running at this point as it did still make some and Brass Monkey handled the servers. There was no reason to not keep it running until this happened.
Having said that Nitrome changed direction in its approach to Apps late last year. We started making apps that were free and as part of that it meant we could also put the same game on the website. Because you can now get all our planned games on mobile there is very little point in adding Touchy controls to the web versions of the games. As we see it, if you have a mobile device you are lightly to just download the game given the choice rather than playing it in the browser using your mobile.
That's not to say that all Touchy experiences are possible on mobile. Some games did benefit from having your phone as a separate device and there were lots of ideas we had that we would have loved to have made just for it if it had made enough money from the app to justify it. But it didn't, and as that is the case it was yet another reason that we felt Touchy would eventually burn out regardless with no real chance of future support.
It was telling that nobody noticed for quite a while that we had even taken it down. Only very recently did we start seeing people ask where it had gone.
So what now?
Nitrome have negotiated a 3 month cool down period from today where current owners of the Touchy App will still be able to use it. Nitrome have offered to pay Brass Money their usual revenue they would receive in royalties to make this happen despite the fact we will make no money from the app during this period. We are doing this because we love our fans and the support you give us. We want to minimise the impact of anyone who may have recently downloaded the app or for those that truly love it. We wish we could keep it running forever but that is just not realistic given the circumstances and on researching previously closed down service based apps this seemed a reasonable length of notice.
We will remove Touchy functionality from the apps after the 3 months. Unfortunately this means some games will lose some features...in particular 4 player mode. If we are at all able to bring that functionality back at a later date through some other option such as controller support we will do our best to do so but we can't promise anything at this point as no such support currently exists.
The last day you will be able to use Touchy will be the 30th of June 2015. If anybody has further concerns or questions please email us and we will do our best to alleviate them.
To soften the blow we will be announcing a previously unmentioned upcoming game later today and we will give updates to other games and game updates throughout the week. We hope you can understand the decision we have had to make and can focus on future exciting projects with us rather than getting to upset about what gets left behind.