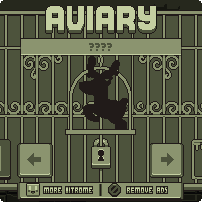 Hi Nitromians,
a few of you already noticed that we updated Endless Doves with a couple of new 'Birds' in the Aviary for Christmas.
It is already live on Google Play (because submission is super quick) and will be live on iOS as soon as the update has been approved by Apple. We will also be updating the version on Nitrome.com soon.
There is a new bird that you all should recognize and another flying creature that is relevant for the holidays.
Happy Dove collecting everyone!