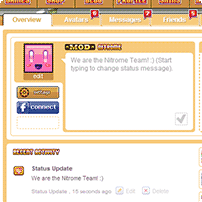 Hi Nitromians,
We haven't spoken too much lately about the accounts upgrades that are soon to come to nitrome.com, so we thought we'd shed a little light on what to expect!
You will have the ability to comment directly on other member's profile feeds. You will also get to post updates to your profile for other members to read. This will add a higher level of customisation to your profile page!
We will let you know more about what other features to expect in this accounts update next week!