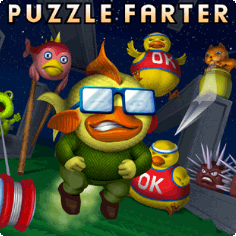 Hey Nitromians
Everybody loves a good fart gag... don't they?
If the answer is yes then you're in for a treat in this week's pixel love game, Puzzle Farter developed by Pet Tomato.
Take to the skies in this jetpack fartpack based platformer with over 100 levels of fun.
First things first, this game REALLY needs to be played with the sound left on. We would defy even the most stony hearted of players to not at least let out a wry smile at the huge selection of pumps parps and squeaks on offer. What it lacks in music or plot, it more than makes up for with bags of charms and giggles.
Hopefully you will find this flatulent based platformer as much of a gas as we did.
Play Puzzle Farter: Click Here!
Join us next week for some more pixel love. =0)