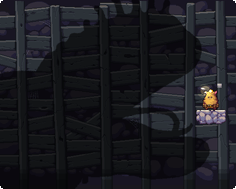 It has been a while since we talked about our upcoming Cave Chaos sequel so we thought we would give you a little update as well as a new little teaser shot.
This is not the game that is coming this week (stay tuned for that... a slight technical hitch has taken longer than expected to sort but we're sure to crack it soon enough) but it is now not far from being complete.
All the elements are in the game and almost all of the levels have been built so there's not much more to do. We also wanted to give a little something to wet your appetite so check out the shot for a teaser of the games boss :)
Cave Chaos Preview: Click here!
Play Cave Chaos: Click Here!
Stay tuned for the game coming your way soon!