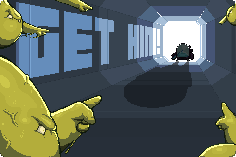 Hey Nitromians!
Here's a little more info regarding our Touchy Game Controller update that we're working on.
As we mentioned before, the app will be updated shortly. In conjunction with the update, we will be adding a lot more games to the Touchy library, with even more to come shortly afterwards.
Oh and we are going to add another free game to play with the app!
Here's an image of the controller skin for Test Subject Green... 'cause we love it!
Have a great weekend everyone, we'll see you all next week!