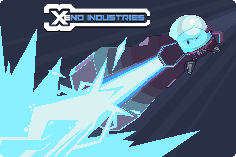 Good day to you all,
We wanted to let you know what has been going on in these Nitrome Towers of ours. We know we've been going Icebreaker crazy recently, but we have been working on other things that are not related to ice, Vikings, Trolls and Goats!
Some of you may have noticed that we have gone quiet on all things Touchy over the past few releases, well there is a reason.
We have been working hard along with the Brass Monkey team over in Boston, MA. We've listened to your feedback regarding the app and we're very excited to announce that the app will be updated very soon. More details will follow over the coming days but for now, here's the Test Subject Blue controller skin.
Test Subject Blue controller skin: Click Here!
Let us know what you think