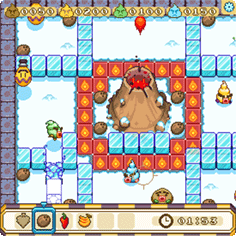 Hi Everyone,
Do you remember us saying that we are currently working hard to bring you all our next winter game?
Well we thought we'd whet your appetite with a little preview screenshot...
...It's gonna be Bad Ice Cream 2!
You might also notice the extra ice creams in the shot. That's right! It's gonna be Touchy's second multiplayer game!
As we are adding four players, I guess that means that we need more flavours! Can you say mint choc-chip?
Keep your eyes peeled for this game coming to Nitrome very soon :)