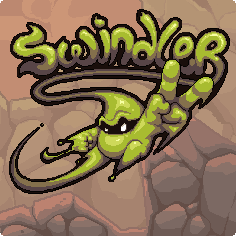 Swindler is back in a brand new drop and roll adventure Swindler 2!
Take control of our sneaky little green dangler in this rotating action puzzler.
Bouncing back onto your screens, fresh from the hugely successful early 2012 title Swindler. This brand new game is the first Nitrome Touchy enabled title from launch. So if you want the full immersive experience, get Touchy and get rolling!
Whilst we're on the subject, for you android users out there, the wait is over! Touchy is now available to download on the Google Play Store. Just in time for Thanks Giving! Phew….! :0)
If you don't have a smartphone, don't worry you can still enjoy Swindler 2 using your keyboard just like all the other Nitrome games. The world of Nitrome just got that little bit better! We hope you enjoy Swindler 2, we really enjoyed making it!
Swindler 2: Click to Play!
Have fun!