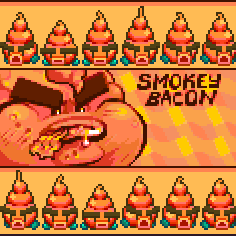 Wow Nitromians… we have to admit we had no expectations of telling you prior to launch what the final flavour was in the upcoming Bad IceCream 3! We were so confident you wouldn't guess it that we challenged you all to guess away and you really did shooting past 300 comments! It didn't even take a full day though for Leonard Greenland to correctly guess that the final Ice-Cream flavour was Bacon... it blows us away that you guys guessed it!
It started off as a joke in the office that we would do bacon flavour but when we looked it up we were surprised to find it was real which settled us on the idea!
A little history... in 1973 the comedians 'The Two Ronnie's' joked about the possibility of a Smokey Bacon Ice-Cream in a sketch which also joked about the possibility of a Cheese and Onion and other crisp flavours of Ice-Cream.
A Bacon and Egg Ice-Cream was created for real in 1992 by Aldrich's Beef and Ice-Cream Parlor as an April Fools joke. They made 15 gallons of it and offered it free to anyone who would try it.
It was eventually made tasteful by celebrity UK chief Heston Blumenthal, when he infused an egg custard with bacon to make bacon and egg ice-cream. You would think it would be disgusting but critics seemed to dig it?!
So there you go a real flavor... who would have thought it!
One other reason we thought this flavour would work is colour, which we noticed a few of you were thinking about in your guesses… very clever of you ;) It's important for the ice-creams to stand out from each other and we didn't have a red one, so bacon while not the first suggestion was a good fit here!
You can look forward to the full game soon, so in the meantime get some practise in with the original games here: