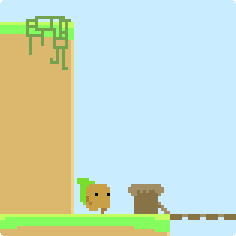 Hi Nitromians!
Today's Pixel Love game is Leaf Me Alone by Mark Foster and David Fenn
Leaf Me Alone was made for the Ludum Dare 'minimalist' theme!
The game is wonderful and reminds us a little bit of a cross between Fez and classic Zelda. We thoroughly enjoyed the chilled out atmosphere with the friendly open and roam-able levels in this one.
The way the game's simple puzzles are set out in the world make for a forgiving and intuitive play session.