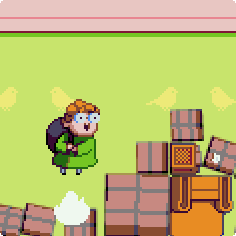 Hi Nitromians!
Do you like cleaning up your room!? We thought not! So forget what you think you knew about tidying up!
Today's Pixel Love game is Colossal Clean-Up by Underground Pixel and it's amazingly enjoyable!
It's a really manic time based clean 'em up. You will find yourself chucking loads of tiny blocks at the windows, clearing the floors easily with seconds to spare until it happens... All of a sudden that looming sofa resurfaces and comes flying out of your bag blocking the window! What now!? Better unblock it or find yourself another window!
The art style is really cool; we think your going to like this one :)
Play Colossal Clean-Up: Click Here!
Have fun!