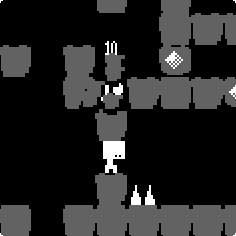 Hi Nitromians!
This week's Pixel Love game comes in the form of Bump by one of Nitrome's very own flash programmers Aaron Steed.
Bump, created for the 7 day roguelike (7DRL) challenge, is an interestingly fresh concept of a turn based platformer with randomly generated levels. We feel Aaron has done a great job with this.
Play Bump: Click Here!
We found it to be a very addictive little game and have spent a lot of time beating our highest scores by planning and perfecting our routes through the randomly generated levels more carefully.
We think you'll have a lot of fun with this!