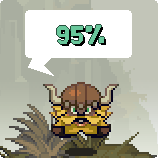 Hey Nitromians,
I know it has been a while since we last talked about Icebreaker: A Viking Voyage and I know a lot of you expected it would have been launched by now due to a comment on the Touch Arcade article which mentioned a January release. Well that obviously didn't happen but rest assured that this is not vapourware... The game has actually never had so many people working on it and we have not at any point stopped working on it. It is getting close to being wrapped up and we will have more news coming soon. Until then thanks for your continued interest... It will be worth the wait!
While you wait check out this new screen shot from a later level in the game and note that we have also updated the progress bar to show that we are still erm.....progressing :)
Icebreaker: Dev Diary #3 - Click Here!