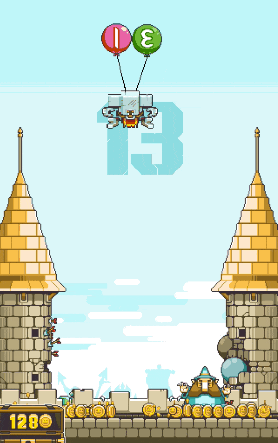 Hey Nitromians,
WAHOO! We have just released a brand new update to our super popular Magic Touch!
This update brings you two brand new modes INSANE and ZEN! Both bringing separate spellbinding challenges.
Insane mode is exactly what it says on the tin. SUPER HARD and LOTS of fun. With some brand new shapes to master, the speed cranked up to 11 and purple knights and the king are more EVIL than ever. Perfect for short bursts of play and people who like a challenge and to brag about there impressively low high scores.
Zen mode is built for those who just want to play the game without any of the added distractions. Gone are the purple knights and collectable spells slots that take way to much brainpower. Start off at a reasonable pace without any of the boring build-up, throwing you into the action straight away and keeping the pace until your arm softly drifts off to sleep! AHEM... and then falls off.
If you're up for the challenge try and beat 34 on Insane mode, my PB so far!
Let us know what you think of our new update in the comments below. And leave us a nice review or rating on your chosen store if you want to help us out and make us feel all warm and fuzzy inside.
We really do listen so any feedback or ideas for cool new updates are noted.

Happy gaming everyone.