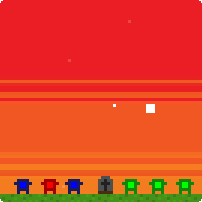 Today's Pixel Love game is Pixel Escape!
This game asks you to steer the tiny pixels away from the fast approaching wall of data corruption, using your super fast reflexes and drawing skills to guide them to safety!
Along the way, you can pick up some of your fellow pixel folk and help them out of the jam too. This game has a cool "corrupted pixel" palette, similar to that found in Underbyte.
Enjoy everyone, we'll pick another stand out game to highlight as next week's Pixel Love game!