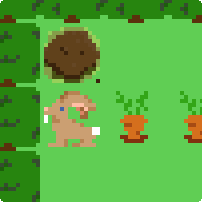 Hey Nitromians!
We've noticed that there has been a slight shortage of Pixel Love games whilst we were jamming, so to make up for that, we'll be showcasing two great pixel loves this week.
First off, we have Hare's Harvest, a great little turn based game developed by Michael Cook.
The game has some great mechanics. Using burrows, stomped burrows, foxes, dogs and farmers, your aim is to make your way through the farmers crop of carrots. There are some great puzzles in this one, with some real head scratchers.
We hope you enjoy playing this one!
Stay tuned today for the second Pixel Love game choice!