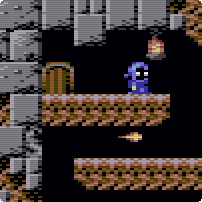 Today's Pixel Love game is a Ludum Dare 19 entry called Grand Mystic Quest of Discovery by Hulahulahest.
Firstly we need to mention the controls:
Arrow Keys: left/right = walk left/right
Arrow Keys: up/down = climb ladders, read scrolls, enter doors
Z = jump / close scrolls
Q = use spell #1 (once you have it)
W = use spell #2 (once you have it)
(Hold) A = use spell #3 (once you have it)
S = use spell #4 (once you have it)
Ctrl+F2 = restart
We have added the controls onto the game page too.
This game very accurately emulates the C64 graphic style and colour palette. It has very solid gameplay, the elements/spells all work great together to create a set of clever puzzles for you to solve.
Have fun everyone, we'll highlight another great pixel love game next week!