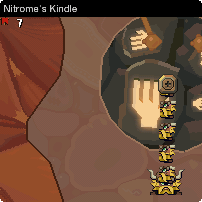 Hi Nitromians,
time for another Icebreaker update! We have some bad news and good news...
First the bad news...after a lot of testing and feedback We are still finding new bugs on Android (Google Play and Amazon store) so that is holding things up...
some of them have been quite amusing though like one where the chains decided to use Vikings for the graphics in some circumstances! We are getting there though so bear with us!
The good news from this is that because this has all taken some time and because we wanted to launch the pack update alongside the Android release is that we are now planning for it to be a full pack update rather than splitting it into two parts which had previously been the plan.
Just to stress the significance of this....it's a whole new pack with it's own theme, side routes, 3 new enemy types, new mechanics, soft body physics, cut scenes, new story, new characters, returning old characters and an epic boss fight that makes the current ones look rubbish by comparison! Oh and it's all set inside a giant Octopus type beast!
It is almost 40 more levels and about the same amount of new mechanics as we put in the entire game so far! So it's a BIG update!
p.s. we will also be turning the iPad version of the game universal with cloud support too!
p.p.s. Oh and there will be some new missions in there for the new pack too :)p.p.p.s. We're working on a fancy new trailer to show this stuff off before launch!