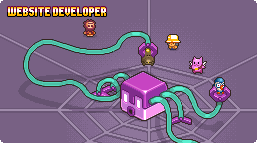 Read the role description below and the jobs page
information thoroughly before applying.

It will be helpful if you familiarise yourself with
nitrome.com and the games on the site. Please
only apply if you think you have the required skills.

Make sure your C.V. and portfolio shows off skills
and experience relevant to the position, and send
them to our job email. We look forward to
hearing from you!
As a web developer you would be responsible for maintaining and building new areas of the Nitrome site
as well as other sites relating to Nitromes games. There is no game development involved but the site is
intended to be an extention of the games so this is a very creative role building both technically challenging
and entertaining elements. As many of the elements will directly tie with the games that are built you will
have to work closely with the game programmers and artists.

We require that a web developer has the following skills:

An understanding of Flash ActionScript 2.0 and 3.0 (but you don't have to have made any games).
Examples sites with a content management system.
Ability to build and use databases and MySQL.
A solid understanding of Javascript.
Ability to optimise what you develop to keep server Overhead to a minimum.
The ability to self-learn new skills as required.
Must be able to work hard under pressure.
Basic design and layout skills and an eye for detail.
Experience with Facebook/Twitter intergration.
Experience working on large traffic sites would be Desirable but not required.
Other programming experience such as C++ or JAVA Would be a bonus but not required.
Skills not listed but related such as work with socketConnections would be a bonus.
Important notice! Before you apply to a position, please make sure that you fulfill the following:
You are at least 18 years old, you are available for work in London, UK, or willing to relocate there,
and you have a CV and portfolio relevant to the position.
An error occured, please check that you have Flash Player 10 or higher.