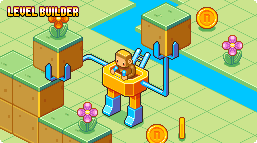 Read the role description below and the jobs page
information thoroughly before applying.

It will be helpful if you familiarise yourself with
nitrome.com and the games on the site. Please
only apply if you think you have the required skills.

Make sure your C.V. and portfolio shows off skills
and experience relevant to the position, and send
them to our job email. We look forward to
hearing from you!
As a level builder you will be primarily responsible for building levels for games we have in development at
Nitrome. This task will involve supporting the games artists and programmers in building some of the levels
for games that are in development or you may be given the task of building further levels for an existing game
to extend the franchise.

Further to level building you likely will get asked to assist in other tasks related to maintaining and supporting
the Nitrome games, the Nitrome website and it's community. Such tasks could include updating editorial,
monitoring and responding to community activity, testing games and contributing to game ideas.
We require that a level builder has the following skills:

Demonstrate at least 5 levels you have built appropriate to Nitrome (think 2d and retro).
Desirable editors would include Little Big Planet, N, Game Maker or a flash game that includes a level editor that used physics or a platform engine.
Demonstrate a creative thinking in being able to use provided assets in ways beyond their obvious use.
Be able to make levels pretty using the assets provided without sacrificing playability.
Must be prepared to take a test to demonstrate your ability.
Mark-up language experience such as HTML and XML would be desirable but not necessary.
Industry experience would be a bonus but is not required.
Be a keen games player and in particular play lots of retro or 2d games.
Important notice! Before you apply to a position, please make sure that you fulfill the following:
You are at least 18 years old, you are available for work in London, UK, or willing to relocate there,
and you have a CV and portfolio relevant to the position.
An error occured, please check that you have Flash Player 10 or higher.