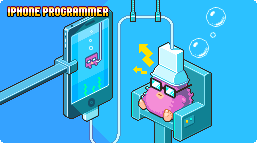 Read the role description below and the jobs page
information thoroughly before applying.

It will be helpful if you familiarise yourself with
nitrome.com and the games on the site. Please
only apply if you think you have the required skills.

Make sure your C.V. and portfolio shows off skills
and experience relevant to the position, and send
them to our job email. We look forward to
hearing from you!
As an iphone/idevice programmer you will be responsible for programming games in that format collaborating
with the primarily the artists but also sometimes the flash programmers and web developers.
Projects will include iphone versions (not direct ports) of some of our classic games that are suited to the
touch screen format. You may also get opportunity to develop new Nitrome i.p.'s that are built around ideas we
have for the format using it's unique properties such as the giroscopes, accelerometers, camera, microphone,
and multitouch producing games that are not possible in the browser format.

We require that a iphone games programmer has the following skills:

A solid understanding of programming languages relating to idevices (C++ and Objective C)
A solid understanding of tools such as Coco 2d and Box 2d which would be relevant to game development on idevices.
Examples that demonstrate your ability to program games on idevices.
Understanding of physics and math concepts required for complex game development.
The ability to self-learn new skills as required and keep up to date with new developments.
Be able to work hard under pressure and meet deadlines.
Be a keen games player and in particular play lots of retro or 2d games.
Important notice! Before you apply to a position, please make sure that you fulfill the following:
You are at least 18 years old, you are available for work in London, UK, or willing to relocate there,
and you have a CV and portfolio relevant to the position.
An error occured, please check that you have Flash Player 10 or higher.