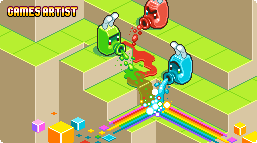 Read the role description below and the jobs page
information thoroughly before applying.

It will be helpful if you familiarise yourself with
nitrome.com and the games on the site. Please
only apply if you think you have the required skills.

Make sure your C.V. and portfolio shows off skills
and experience relevant to the position, and send
them to our job email. We look forward to
hearing from you!
As a pixel games artist you will work closely with the games programmers and web developers to provide
pixel based artwork for the games and assets the site and anything Nitrome related.

You will share duties within the games you develop such as level building and testing. Your duties will include
work on both existing Nitrome i.p.'s as well as new game ideas that you will get oppertunity to contribute to.

We require that a pixel games artsit has the following skills:

An depth knowledge of Photoshop and image compression techniques.
Knowledge of frame based animation skills in Photoshop,ProMotion or equivelant.
An understanding of flash with a focus on animation techniques.
Examples of good bitmap animation skills that show a competence for game animation (such as walk cycles).
Examples of backgrounds, tiling work and interfaces.
Examples of a variety of art styles appropriate to Nitromes audience.
An understanding of how games are put together.
Good graphic design and layout skills.
Vector drawing and 3D art skills would be a bonus but not essential.
Be a keen games player and in particular play lots of retro or 2d games.
Important notice! Before you apply to a position, please make sure that you fulfill the following:
You are at least 18 years old, you are available for work in London, UK, or willing to relocate there,
and you have a CV and portfolio relevant to the position.
An error occured, please check that you have Flash Player 10 or higher.