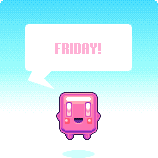 Hey Nitromian's.
Phew... it's been another busy week at Nitrome Towers. With lots of new and exciting game development happening.
Late last week we showed you all a quick glimpse at our upcoming multi/single player game Bump Battle Royale. It's quite far into development now, so we can fill you in with some more details on the game next week. We don't want to spoil too much about the game though, so just another small glimpse ;)

Until then have a great weekend and we will see you on Monday for another Pixelove.
Happy gaming =)