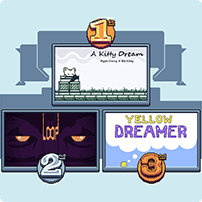 Hi Everyone,
Voting for Nitrome Game Jam 2014 entries is now closed!
The Results Are:
1st Place
A Kitty Dream by Raiyumi
2nd Place
Loop by Team Awesomotronica
3rd Place
Yellow Dreamer by NazoSystems
For a full list of the games (ordered by their vote average), check out the Jam Page.
A big congratulations goes out to Ryan Carag and Bill Kiley for their great platformer, A Kitty Dream! Well done Raiyumi! :)
Also we'd like to take this opportunity to thank everyone that made a game, played games, casted their votes or took part in anyway and to all those that had as much fun as we did!