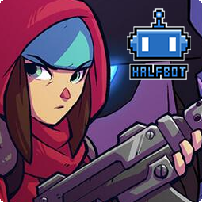 Hi Nitromians,
We are thrilled to announce that our very talented friends at Halfbot are going to be participating in the Nitrome Jam! If you don't know them they are the guys that made the very awesome 'the Blocks Cometh' on iPhone and also helped Vlambeer bring the equally awesome 'Super Crate Box' to iOS to boot!
In case your wondering the image used here is from Halfbots new game 'Bullet Age'. It looks set to take the studio to a whole new level of awesomeness so check it out if you haven't already.
We have had lots and lots of people join the jam so far and while many of them may just be over enthusiastic to sign up we know that within that there are going to be some great games for sure that would not exist if we had not opened the jam to people outside of Nitrome. We will continue to highlight some of the people who commit to being involved in Nitrome Jam 2014 as we run up to the event!