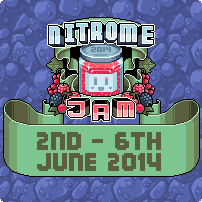 Wow, you all really liked our Nitrome Jam announcement huh? Over 500 comments and counting in just two days.
We have been reading your comments and there are some really awesome suggestions for Jam themes. However some people appear to be a little confused on what we're asking for when we say "suggest a theme". So just to make it a little clearer on what we are looking for:
-A theme is NOT a game idea. So anyone writing a paragraph suggesting what game they would like us to make is kinda missing the point, sorry!
-Consider that MANY people are going to be tackling this theme separately so anything too specific would result in a lot of similar games.
-We aren't looking for sequel suggestions or game ideas including our characters.
-As a rule of thumb a theme is made up or one or two words, rather than a description of something.
Some of our favourite suggestions so far are: Dreams, Reverse, Toast, Growth, Space.
Looking forward to reading some more. =)